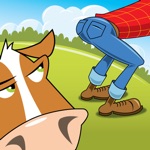 ---
App Details
Developer

Price

USD 0.99

Version

2.1

File Size

309.44 MB

Release Date

2012-05-29 03:00:00

Version Updated Date

2013-09-13 12:30:17

Release Notes

Addressed some minor issues in order to improve the player experience.

Languages

English
French
German
Italian
Portuguese
Spanish, Castilian

compatibility

Minimum iOS Version 5.1 - iPhone - iPadWifi - iPad3G - iPodTouchThirdGen - iPhone4 - iPodTouchFourthGen - iPad2Wifi - iPad23G - iPhone4S - iPadThirdGen - iPadThirdGen4G - iPhone5 - iPodTouchFifthGen - iPadFourthGen - iPadFourthGen4G - iPadMini - iPadMini4G - iPhone5c - iPhone5s - iPhone6 - iPhone6Plus - iPodTouchSixthGen
App Description
Gameplay Trailer:
http://www.youtube.com/watch?v=cB7obeANeJE

To us it's tipping. To the cows it's a love nudge.

Cow Tip-Foolery utilizes the Accelerometer in the iPhone and iPad to tip, tilt and wobble objects across 50 zany -- and yet pastoral -- levels.

It all starts with the tip of one of our specially trained stunt cows!

Puzzles enlist animals and objects on the farm to help the farmer do his chores.
▪Tip! Cows.
▪Bump! Trees, horses, pigs, fence posts, and tire swings.
▪Roll! Hay bales, eggs, apples, and pumpkins.

It's like playing a Saturday morning cartoon!
▪Customize your stunt cow's style.
▪50 levels of quirky farm hijinks.
▪Engage your skill of precision.
▪Cow Bell Collectible Challenge.
▪Satisfaction of helping the cows show the farmer their love.
---