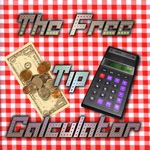 ---
App Details
Developer

Price

Free

Version

1:0

File Size

55.04 kB

Release Date

2009-09-22 14:33:18

Version Updated Date

2009-09-22 14:33:18

Languages

compatibility

Minimum iOS Version 2.2.1 - iPhone - iPod - iPod - iPhone - iPhone - iPadWifi - iPad3G - iPodTouchThirdGen - iPhone4 - iPodTouchFourthGen - iPad2Wifi - iPad23G - iPhone4S - iPadThirdGen - iPadThirdGen4G - iPhone5 - iPodTouchFifthGen - iPadFourthGen - iPadFourthGen4G - iPadMini - iPadMini4G - iPhone5c - iPhone5s - iPhone6 - iPhone6Plus - iPodTouchSixthGen
App Description
The Free Tip Calculator. - Super Easy tip calculation, the amount calculator shows you how much to tip at the tip of a button.


Tipping advice - don't be left red faced by bad tipping etiquette.

Why Should you tip?
If the service was acceptable and of value to you and your experience of that service. Some jobs in the service industry pay a minimum salary so your tips help subsidise their income.

Who to tip?
Just about anyone in the service industry. Including, but not limited to, waiters and waitresses, maids, barbers, bartenders, taxi drivers.

How much do you tip?
The generally accepted amounts are 15% to 20%, Though this may vary outside of North America.

When should you not tip?
If service was awful or unsatisfactory, tip nothing and notify management. Service that is slow, tip 10%. If service was acceptable for you, tip 15%. If service was above your expectations and was quite agreeable to you, tip 20%.

Bear in mind if the service is slow, it may not always the servers fault. One should keep in mind If you ever plan to return, then the service was good enough that you should think to tip for the service. If the service was so poor that you do not intend to tip, then it may also be poor enough that you should notify management of your poor experience.

I hope that helps you with tipping ettiquette and you do find our free tip amount calculator useful in your life, so you may never again be caught asking -
just how much do I have to tip?
---