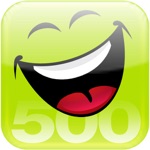 ---
App Details
Developer

Price

USD 1.99

Version

1.0

File Size

857.85 kB

Release Date

2009-03-26 22:05:37

Version Updated Date

2009-03-26 22:05:37

Languages

compatibility

Minimum iOS Version 2.2.1 - iPhone - iPod - iPod - iPhone - iPhone - iPadWifi - iPad3G - iPodTouchThirdGen - iPhone4 - iPodTouchFourthGen - iPad2Wifi - iPad23G - iPhone4S - iPadThirdGen - iPadThirdGen4G - iPhone5 - iPodTouchFifthGen - iPadFourthGen - iPadFourthGen4G - iPadMini - iPadMini4G - iPhone5c - iPhone5s - iPhone6 - iPhone6Plus - iPodTouchSixthGen
App Description
Everybody loves facts. At least the kind of facts that are fun, amusing, and informative. After all, facts provide insights to how the world that surrounds us around works.

Here's a fact: Funny 500 - Fun Facts puts 500 facts at the tip of your fingers!

Funny 500: Fun Facts allows you to mark your favorite facts as favorites, email fun facts to friends, and even compose your own fun fact. You can also run a search on all existing fun facts so that you can locate that fun fact more easily.

Words you might associate with Funny 500 - Fun Facts are: fun, funny, facts, fact, truth, truths, truthfulness, verity, certainty, actuality, info, information, real, reality, factoid, item, knowledge, trivia, science, statistics, stats, brain, brains, humor, humorous, laugh, lol, omg, unbelievable, interesting, weird, strange, fascinating, fascinate, fascination, amusing, amuse.

If you like Funny 500: Fun Facts, chances are you will also like: Funny 500: Riddles, Monkey Bowl, King Pin Bowling, Funny 500: Pickup Lines, Funny 500: Insults and Putdowns, Funny 500: Famous Quotes, Funny 500: Famous Quotes, Funny 500: Knock Knock Jokes, 15000 Baby Names.
---