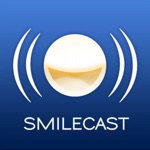 ---
App Details
Developer

Price

Free

Version

1.02

File Size

15.25 MB

Release Date

2012-06-15 23:18:00

Version Updated Date

2012-08-20 18:23:40

Release Notes

-Bug fixes

Languages

compatibility

Minimum iOS Version 5.0 - iPhone - iPadWifi - iPad3G - iPodTouchThirdGen - iPhone4 - iPodTouchFourthGen - iPad2Wifi - iPad23G - iPhone4S - iPadThirdGen - iPadThirdGen4G - iPhone5 - iPodTouchFifthGen - iPadFourthGen - iPadFourthGen4G - iPadMini - iPadMini4G - iPhone5c - iPhone5s - iPhone6 - iPhone6Plus - iPodTouchSixthGen
App Description
Smilecast is for your dental practice. It requires an ID and Key to access the platform.

Improves Patient Communications - If everyone in your practice could deliver a consistent message about the procedures you perform your practice would boom! Unfortunately your team has multiple tasks they perform and delivering a consistent message just doesn't happen. Our research into dental practices has allowed us to deliver the right content at the right time and SMILECAST can deliver that message just like you would. In fact, we can video tape you and you can deliver the message yourself.
​
​Controls Your Reception Room Environment - Your reception provides the best opportunity to educate your patients and their friends on all the services you offer. You have no control over magazines or television content. Bad news can negatively impact a patient's decision making process and possibly your revenue . With SMILECAST we deliver a controlled environment that helps you cross-sell and improve case acceptance.

​Cost-Effective - SMILECAST manages the content creation and licensing fees. Eliminates the need to print and distribute static brochures that very few of your patients actually read. No more hours lost reprinting outdated or erroneous materials.

​​​​​​​​Up-Sell & Cross-Sell - With everyone that steps into your reception room there is an opportunity to sell your services. With SMILECAST your viewers are not only more likely to notice your dental services but research shows they are more likely to receive the message and act on it.​

Real-time & ​​Dynamic - SMILECAST can be interactive and dynamically changed to meet the demographics of your audience. You can even create and promote daily special offers to your target audience with our RSS manager.
---